The Estate of Joel Mesler
The Kids Are Growing Up (A Tired Old Jew)
April 17 - May 22, 2015
At Whitcher Project
Curated and organized by Lisa Marie Pomares

-----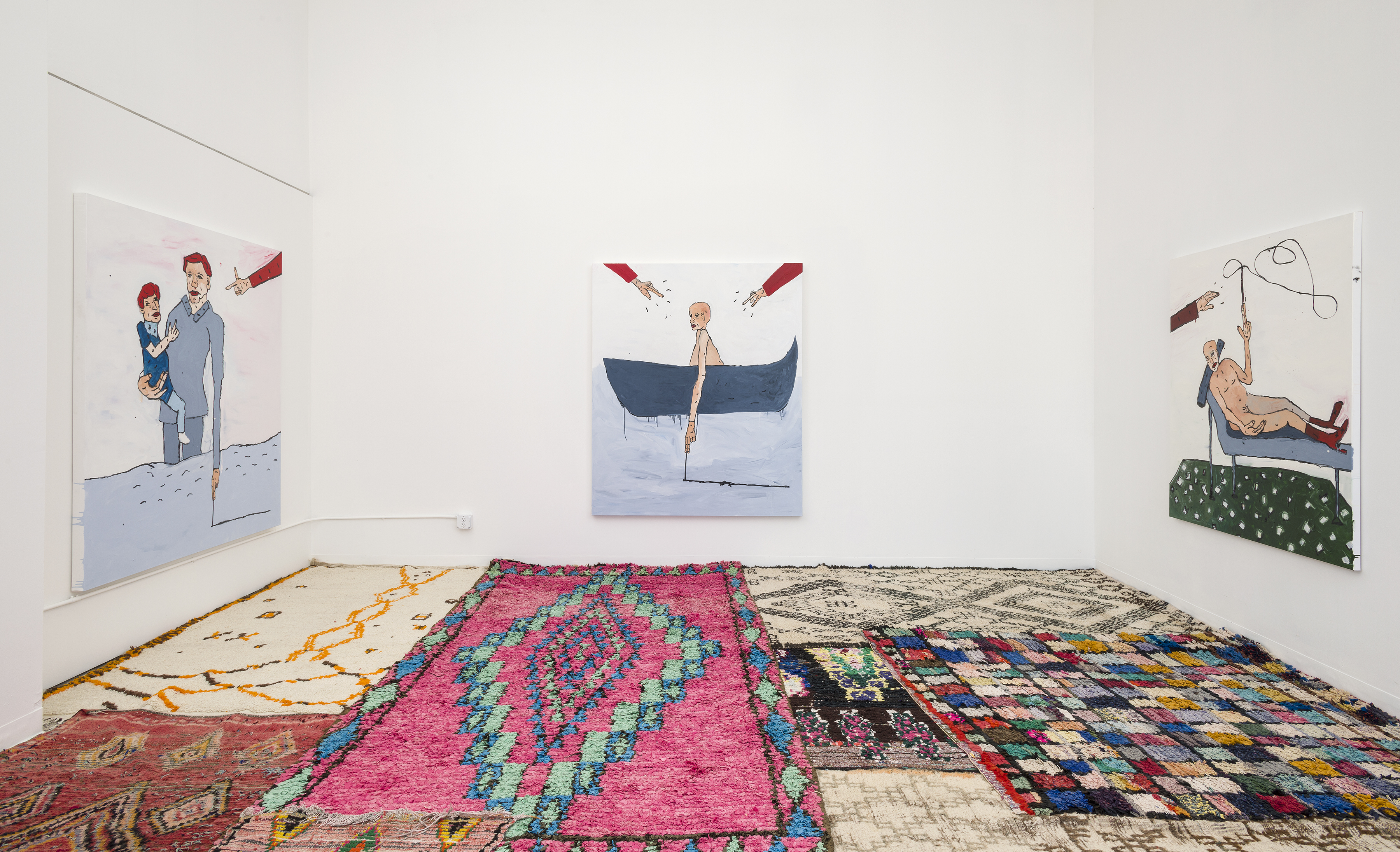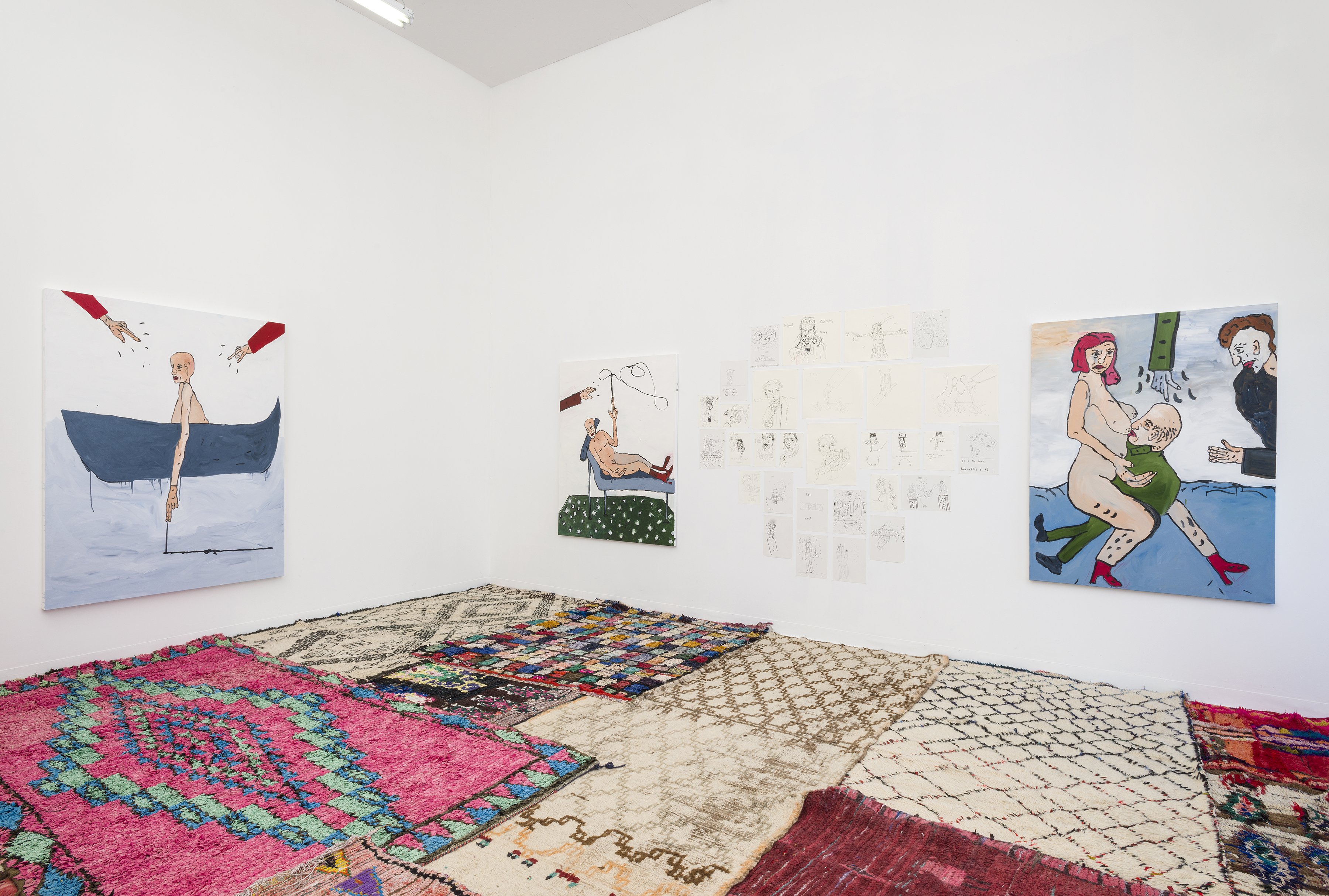 TRUE CONFESSIONS OF A JUSTIFIED ART DEALER, PART ONE: SAFE AND WARM IN L.A.

By
Joel Mesler
Not long after I graduated with an M.F.A. from the San Francisco Art Institute, Ella King Torrey, the school's president during my time there, hanged herself in her house without leaving a note, and I realized this was a hard life. I had moved to New York after school with dreams of becoming an artist and showing with Mary Boon Gallery. I got so far as working as an assistant for David Salle, who at the time was one of Boone's most successful artists. His studio was in Tribeca on White Street and was divided into three separate spaces: one where he painted, one where he drew, and a third where he entertained. I was in charge of keeping records of the drawing studio. He only listened to classical music and he had a large fridge that was never stocked with anything but Perrier and Belgian beer.
"David only drinks Perrier and Belgian beer in the studio," Salle's studio manager explained to me. She also said, quite often, "Help yourself to the fridge!" I was being paid good money for a job that involved taking only the occasional photograph of Salle's drawings when he finished them, so I was overly cautious. I wanted to keep the job for as long as possible. I never made use of the fridge. I worked there for four months thinking it would be my entry to fame and fortune—that I would become a new David Salle in New York—but instead I learned that I didn't know how to be that. My sole interaction with Salle during those months was a friendly reminder from him: "Don't be afraid of the fridge!"
I moved home to live with my mother in Los Angeles. She gave me a $30,000 loan—all the money she had after a divorce settlement with my father—and I used it to put a down payment on a two-story building in Chinatown on Chung King Road. I chose carefully: it was sandwiched between what I thought were the most interesting galleries in the city at the time, Black Dragon Society and China Art Objects. I figured a business in the middle of the two could achieve success through sheer osmosis.
In May 2000 I opened my first gallery, which I called Dianne Pruess, with a show of artists I went to graduate school with. The show was up for two months. It was never reviewed and I did not sell any work. I was 26 years old.
Dianne Pruess was a character I invented—the result of residual artistic ambitions. Pruess was the name of the street my mom grew up on. Dianne sounded like the name of a rich housewife who took Quaaludes in the '80s. The name made me feel like I could circumvent a system I didn't believe in. The success of my direct neighbors meant that unknown artists would come into my space and ask about showing at the gallery. I would sit at my desk and tell them, "I don't make decisions. Dianne does."
One afternoon, Patrick Painter, a 350-pound Long Beach gangster who wore a gold chain, drove a red Ferrari, and was the first art dealer to show Paul McCarthy and Mike Kelley—the greatest of all West Coast artists—came into the gallery and asked, "Is this Dianne's new project?" I took this as a personal victory. Painter took a 20-minute shit in my bathroom and left.
My second show was of Phil Wagner, the star of my graduating class. I had no employees at my gallery. I bought my first computer at this time and would sit at the front desk alone while learning how to use Google. On Saturdays, Phil would come into the gallery on his day off from his job as an art preparator at the Museum of Contemporary Art and keep me company. I knew collectors came into Chinatown on Saturdays because I would look into China Art Objects and see Giovanni Intra, that gallery's owner, not just on the phone, but actually talking to people face-to-face. Phil's show had been up for over a month. He started living in the basement of the gallery.
My current gallery,
UNTITLED
, on the Lower East Side of Manhattan, sold work by Phil at Art Basel in Miami Beach last year. In a lot of ways, the art world doesn't change much, but I'm struck now by how easy it was to sell Phil's work 15 years later, how I didn't even have to be there to do it. My wife's water broke the opening day of the fair. I stayed behind in New York while my business partner traveled to Miami, and I turned my phone off when my wife went into labor. We took a hired car to NYU Langone, and after 12 hours my first child was born. The next day I turned the phone back on. I was inundated with messages. One collector had written to me from Miami in my absence: "Where's my Basel preview, twit?" I turned the phone off again.
My career began as a joke with varying degrees of humor until a lanky, middle-aged man walked into the gallery one Saturday. He spent a lot of time looking at Phil's paintings and I came out from behind the desk. I told him the name of the artist and within minutes he bought a painting for $8,500. This was Martin Brest, the producer who wrote and directed
Beverly Hills Cop
. He gave me half of the money up front. Phil had been hiding silently in the back the whole time. We deposited the money at the Bank of America on College Street, then went to Hop Louie, the bar on Mei Ling Way, and called everyone we knew. We spent everything we had that same night.
-----
MEMOIR: TRUE CONFESSIONS OF A JUSTIFIED ART DEALER, PART TWO: FORGET IT, JOEL. IT'S CHINATOWN.
By
Joel Mesler
Giovanni Intra started
China Art Objects
in 1998 with Steve Hanson, who still runs the gallery, now in Culver City. The Los Angeles art world in the late '90s was little more than an unsettled no-man's land where anything was possible. Giovanni used to wait outside the Los Angeles County Museum of Art to get into openings he wasn't invited to with a backpack full of drawings by Jon Pylypchuk, one of the artists he represented at his gallery, and he'd sell them to the trustees in line to inch his way to the front.
Giovanni opened in Chinatown when it was still a row of souvenir shops hawking herbal remedies and vases, but he made the neighborhood into a place where L.A. wanted to congregate. He came from New Zealand, and he was pale and gaunt with a high forehead and too-large glasses. He was always broke. He drove a Volkswagen Golf that was perpetually repossessed by the city because he had so many parking violations, and his friends had to pay to get the boot removed from the car. He hosted dinner parties, requesting that guests bring with them live lobsters.By the time I opened my gallery Dianne Pruess in 2000, the neighborhood was already changing fast. Mike Kelley had designed a wishing well for Gin Ling Way, and it sat in front of the former General Lee's restaurant, a relic of the old Chinatown, which, when I was a child, had been the place where rich Beverly Hills Jews like my parents would go to play Mahjong, have a nice Chinese dinner, and get loaded on liquor and drugs in the back banquet room. It was now an abandoned storefront. An Indonesian security guard named Sean patrolled the wishing well day and night, keeping robbers away from the loose change. He was 250 pounds and seemed like he had simply come along with the memory of the defunct General Lee's as a package deal. I had a hard time reading how he felt about the new faces invading the neighborhood. But nobody wanted to cross him, and he protected that fountain like it was the old homestead and the surrounding neighborhood was an encroaching predator.
Galleries were popping up everywhere. A young lawyer named Javier Peres, who wore very tight jeans, carried around a poodle, and talked about growing up with Basquiats in his bathroom, opened his gallery on Chung King Road with a party featuring a slew of leather daddies and a crystal bowl of cocaine casually resting on a glass table. Inmo Yuon had a gallery where he showed predominantly Asian American artists. Near the end of every day, Inmo would walk down Chung King Road and visit every business on the block. Mine was near the end of this tour, and my neighbors would call me up and offer fair warning of Inmo's approach, but it hardly mattered. He would always enter the gallery in the late afternoon, walk to the center of the space, stare up at the ceiling, and hum loudly. When I'd ask him what he was doing, he would either ignore me, or say, "Stop bothering me. I'm meditating." The artist Jorge Pardo and Steven Hanson, in between making local celebrities out of artists like Eric Wesley and Pae White at China Art Objects, decided to lease the abandoned General Lee's and start a bar there called the Mountain, reopening the back banquet room to a new generation of debauchery.
I was living in the basement of my gallery, which I had also turned into an after-hours speakeasy to make more money. My friend Aaron Turner helped me build a bar, and we'd sell our guests dime bags of various drugs that we purchased in bulk. At the first party, the artist Charles Irvin—at my suggestion—took Viagra, stripped naked, and was breakdancing near the entrance. The idea was that he would be the first thing people saw when they walked in, but he was so nervous the medication had no effect, and he spent most of the evening hiding upstairs. Downstairs, the designers Loy and Ford, who had recently sold a dress to Britney Spears to wear at the Grammys, were running through the crowd with giant pairs of scissors, snipping at people's clothing so that it would fall to the ground in one swift movement before they noticed anything was wrong. Artist Micol Hebron rented a white horse, strapped a horn on its head so it looked like a unicorn, and, sporting a ludicrous blond wig, rode the creature back and forth down Chung King Road for the remainder of the night. All in all, not a bad side business. In June 2001, a
New York Times
article had anointed the neighborhood a "bohemian outpost."
A few months after that first party, I was drinking coffee outside my gallery one morning and I noticed that my mailbox had been ripped off the building's facade. It was sitting in the middle of the street. I looked down the block and saw that a number of mailboxes had been pulled off the buildings and thrown into the middle of Chung King Road.
I thought nothing of this until I ran into Sean later that day. He told me that the night before Inmo had lost his mind. He had been spotted running through Chinatown completely naked, covered in his own feces, and using a bat to smash the neighborhood's windows and mailboxes. The LAPD had arrived. After trying and failing to get him to put down the bat, the police started shooting him with rubber bullets. It took eight rounds to bring him down. I never found out what happened to Inmo, but I decided to move my parties to a bar across the street and try to run a more serious gallery.
I made this decision for my own good. Giovanni played no small role in it. Giovanni had problems, but I idolized him. He would barely speak to me for a long time after I met him, and he never invited me to one of those lobster dinners. I wasn't sure if this was rivalry, or simply business, but I confronted him about it once, one night right after Inmo had his breakdown. Giovanni was in my basement, smoking crack that we had bought in MacArthur Park.
"I love you," he said, "but you're bringing down the professionalism of this. I need to make money."
Of course the irony of this was not lost on me, and six weeks later, Giovanni would be dead.
-----
TRUE CONFESSIONS OF A JUSTIFIED ART DEALER, PART THREE: DOWNHILL ALL THE WAY
By
Joel Mesler
The first real crossover art celebrity to come out of Los Angeles's Chinatown was Eric Wesley, who showed at China Art Objects. The gallery's owner, Giovanni Intra, was selling Wesley's bronze casts of onion rings in neighborhood bars ($100 a ring, though the price quickly escalated to $200) and had placed Wesley in a show at Metro Pictures in New York in December 2002. Metro Pictures was one of the first galleries to open in Chelsea, now the city's main art district, but then a barren wasteland of garages, taxi outposts, and S&M clubs.
Landing an artist in a New York gallery was what every dealer in Chinatown—including myself—was hoping for. This was a sign that your gallery had made it—that you were a serious business. In the days leading up to leaving for New York, all Giovanni could talk about was how he was going to buy a pair of Margiela shoes when he got to the city. He grew up poor and spent much of his adulthood broke, and this was the first time in his life that he had spending money.
The Metro opening, I had heard, devolved into chaos. Wesley got drunk and was locked out of his own party. As the gallery was closing down for the night, he started yelling on the street about wanting to be let back in. He kicked the front door hard enough to crack the glass. Metro Pictures promised to never work with him again and Giovanni never got his $600 pair of shoes.
In fact, he never even made it back to Los Angeles. After the debacle at the opening, Giovanni met up with two friends from New Zealand who were living on the Lower East Side. They were regular heroin users, and Giovanni tried to keep up with them, but he wasn't a junkie and he overdosed in their apartment. The friends were too scared to call the cops, so Giovanni's body remained there overnight.
The news of his death soon traveled to Los Angeles. My friend Mark von Schlegell, a writer who had met Giovanni at Art Center College of Design in Pasadena, called me at six o'clock the next morning. I was living like a derelict in the basement of my gallery, illegally. Giovanni's business partner, Steve Hanson, was living above my gallery in more pleasant circumstances with the artist Frances Stark, who was pregnant with Hanson's child. Fifteen years later, von Schlegell would tell me of this time, "Something bad was bound to happen. Things were going too well."
Iwas born in Los Angeles up the hill from the Whisky A Go Go in 1974. My father's father invented the wire clothes hanger. My father was a cardiologist at Cedars-Sinai, and he graduated from Chicago Medical School with a cocaine addiction that lasts to this day, even now that his nose is a cauterized ball of flesh. My mother was the daughter of Polish immigrants who settled in Detroit. She married my father and became the president of the PTA. My father used his credentials to prescribe himself pharmaceutical cocaine and I saw him only at the occasional birthday party.
My parents filed for divorce in 1986, and it was enough of a disaster to change California law. Thanks to
Mesler vs. Mesler
, there is now transparency between probate, bankruptcy, and divorce courts in California. Needless to say, things got messy. One night, after my mother moved out, she drove my younger brother and me to my father's house when he wasn't home to steal everything she had deemed rightfully belonged to her. She waited with the car running while my brother and I broke in. I was nine years old.
"Everything looks different," my brother said. "I want to see what my room looks like."
"We don't have time for that," I said. "Just steal that painting, OK?"
Whatever low my mother was driven to by their split was no match for my father. Years after the divorce was finalized, to support his cocaine addiction, Dad was rapidly draining the $3 million trust left for my brother and me by my grandfather. Eventually, my brother had enough of this and threatened to expose my father and have his medical license taken away. A few days after this threat, my brother was in his car outside my mother's house, which he visited on the same day at the same time every week. He was on the phone with his first wife when a bullet cracked his windshield, narrowly missing him. My father had hired a one-armed Vietnam veteran named JT to scare him. Despite the sniper's physical handicap, to this day I believe that if my father wanted to kill my brother, that bullet would have hit its target.
After Giovanni's death, it felt as if I had traded the depravity of my upbringing for more of the same; only the style was different. I sold drugs out of my gallery, I threw parties, sometimes I sold a little art. But at a memorial for Giovanni at the Geffen Contemporary in February, 2003, I put on my best clothes like everyone else from Chinatown to pay my respects. (I had to borrow a tie from Steve Hanson.) The entire L.A. art world was there. Herb and Lenore Schorr, the first devoted collectors of Jean-Michel Basquiat, were visibly distraught. I realized the disconnect between Giovanni and myself. He was building something; I was just joking around.
A more private memorial was held at China Art Objects later. I had too many Tsingtaos and started ranting about how I wanted the people who I believed killed Giovanni to be held accountable, but nobody seemed to care. All those artists and dealers were more concerned about what his demise would do for business. Nobody would discuss the circumstances surrounding his death. Of course, I knew even then that many of them considered me to be part of the problem, another hanger-on. Maybe they were right.
The truth is, I had been unsure of my life in the art world long before Giovanni died, and was planning to shut down my gallery anyway. Before he left for New York, I had organized one last show, and Giovanni gave me a painting he made of white text on black paper that said: "Holly Weird." The exhibition was on view when he died, and I kept the painting for myself. It hangs in the entrance to my apartment today. When the show was over, I closed the business and sold my building.
-----
TRUE CONFESSIONS OF A JUSTIFIED ART DEALER, PART FOUR: UP ALL NIGHT IN THE DREAM FACTORY
By
Joel Mesler
I'd been an art dealer in Los Angeles for three years when I decided I'd had enough and got a job working the bar at Hop Louie, a neighborhood establishment in Chinatown. After Sinky, the 72-year-old Chinese bartender, suffered his second hernia, I started working there seven days a week. I charged locals $4 for a drink. When the porn star Brittany Andrews came in with the guys who worked for her production studio, which was around the corner, I charged $9 for the same drink.
It was in this role that I found myself sharing a lease with two regulars, Daniel Hug, the determined grandson of the painter László Moholy-Nagy, and David Kordansky, a former CalArts student who'd brag about how he was going to open the most important gallery in Los Angeles. I believed him.
Our space on Bernard Street, just off the main drag of Chung King Road, was so large that after we built it out to house separate galleries for Hug and Kordansky, there were 800 square feet left over, which I decided to claim for myself. I wasn't quite sure what to do with it because I wasn't interested in reopening a gallery. My heart wasn't in it.
The money interested me less back then than my own enjoyment. At Dianne Pruess, my old gallery, Mark von Schlegell and I had created a school called SCA—the Southern Cantonese Association. It had two students. Our classes included Art Theory While Soaking in a Custom Hot Tub with Dave Deany, a local artist. We claimed that Thomas Pynchon was on staff. It should go without saying that the school was not accredited.
I had also been publishing, again with von Schlegell, a neighborhood newsletter called the
Rambler
, which became something of a course catalogue for the school. We'd print 250 copies and distribute them by hand throughout Chinatown. I decided to use my new 800 square feet of space to revive the newsletter. I opened up a print shop, called Pruess Press, where I'd work with the artists who were coming in and out of the building doing shows with Hug and Kordansky.
Within a couple hours of opening the press, the artist Henry Taylor walked in. I had met him earlier that same week, while he was drinking beer and grilling steaks on the sidewalk in front of his studio—something I'd discover later was perfectly normal for him. He walked into the press that day with a J.C. Penney bag full of paintings he'd made on cigarette boxes. (He was as prolific a smoker as he was a painter.) He told me he had to visit his family in Oxnard, an hour and a half from L.A., but he couldn't afford a bus ticket. He needed $80. I took two cigarette boxes and gave him $100, which he repeatedly declined, this being a greater sum than we had agreed on. Finally, he gave me two more boxes and left. Three days later, he knocked on my door holding a $20 bill. "I only needed $80," he said.
I knew I was onto something with the press when a director who had done music videos for Ludacris came in and wanted me to make a book of the rapper's drawings as a birthday present. I decided to quit bartending. As I had done with my last gallery, I moved into the space to consolidate costs. My new home was located in the front of the building, and I had to cross Kordansky's gallery to get to my shower. Kordansky, who was intensely serious and had a tendency to say things like "you have to pay your dues" and "you have to respect the medium," didn't love these intrusions, but he accepted them, because I would shower after his gallery had closed. This only became a problem whenever I had to be someplace before 6 p.m. One day, I walked out of the shower in a towel and flip-flops while Kordansky was talking up a group of collectors. He was livid. "I can't run a gallery if you're taking showers during business hours," he told me.
In my first years in the neighborhood, Chinatown was a quirky alternative to the mainstream, but Kordansky's austerity made me realize that we were the mainstream now. Every available commercial space in the neighborhood had become a gallery. Preserving whatever scrappiness remained in Chinatown was Henry Taylor, whose all-night parties at his studio would often spill over into my press.
Hug and Kordansky remained pure businessmen, bringing in collectors from all over the world—the Rubells, the Horts, Charles Saatchi; people I had previously only heard of were now frequent guests in my building. Even Patrick Painter, the godfather in the Cosa Nostra of L.A. art dealers, would stop by—albeit with endless motives. Two weeks after the opening of an exhibition of Thomas Zipp at Hug's gallery, in which Hug had swiftly sold everything, I saw Painter's red Ferrari pull into our parking lot. Painter—all 350 pounds of him—got out of his car, walked right into the gallery and, with all the warmth of an assassin, said to a bewildered Hug, "I'm doing Thomas's next show," and left. It wasn't exactly good news, but it felt like a rite of passage.
My return to art dealing started to feel inevitable. One night at Hop Louie, Hug and I thought up a new business model—a gallery that represented other galleries instead of artists. We found an empty space across from Hop Louie that we could rent to out-of-town dealers and take a 15 percent sales commission. We called it Rental. The idea started to take on a life of its own. (I won't get into my European lawsuit with a German dealer who stole the name and the concept.)
Not long after we started the business, Dean Valentine, then CEO of the WB (he was responsible for bringing wrestling to the network and had collected work from Hug in the past), introduced us to Marilyn Manson, who was looking for a venue for an exhibition of his paintings. He met us at Pruess Press. I'd never seen Manson without makeup on. He was a gaunt, even more repellant version of the man I'd seen on television. He was also nervous and wiry, and used the bathroom a lot. He proposed a performance for the show's opening wherein he would stand on the roof of Rental, shooting red paint balls at six for-hire midgets wrapped in gauze and running around the street below. He refused to show his paintings without the performance. When we decided to pass on this unique opportunity, he called us sellouts, at which point Hug and I had a long conversation about how much we were willing to do for easy money. After all, this was L.A., where countless people had let their ambitions get the better of them.
-----
TRUE CONFESSIONS OF A JUSTIFIED ART DEALER, PART FIVE: GOODBYE TO ALL THAT
By
Joel Mesler
For two years after I opened Rental Gallery in L.A.'s Chinatown, I never left my two-block kingdom in the neighborhood because I didn't have to. Back then, in the mid-aughts, everyone wanted to be in Chinatown. The farthest east I went was Henry Taylor's studio on Bernard Street. The farthest west I went was the Bank of America on College Street, where I would deposit the money I was making from my new business. I was drinking heavily at this time and suffered delusions of grandeur. I supplied outsiders with artwork, real estate, alcohol, drugs, and whatever else they might have needed, and came to think of myself as the concierge to the little collection of buildings and sidewalk that comprised my entire existence.
Nothing so insular can last, though, and while I was weltering in my blissful myopia, two former Santa Monica art dealers named Tim Blum
and
Jeff Poe, who worked with a young artist named Takashi Murakami and were long-rumored to be opening a large space in Chinatown, settled in Culver City instead. They moved into a building on La Cienega and instantaneously introduced the Los Angeles art world to big money. Suddenly everyone wanted to be in Culver City, and Chinatown regressed by about ten years overnight. No matter that the artists lived and worked in Chinatown—in cheap real estate, no less—and that their success was entrenched with that of the local dealers. No one wanted to be associated with Chinatown anymore; there was something bigger to aspire to. This was the first time I understood that the art market was more powerful than idealism.
In the spring of 2006, as the inevitable mass exodus picked up steam—my longtime neighbors Javier Peres and David Kordansky started negotiating leases for galleries on La Cienega—I had my first solo show as an artist at Black Dragon Society on Chung King Road. This rekindled my ambition to be a famous artist, a goal I had tried and failed to achieve years before. Going into the show, I was aware it was something of a last gasp of the life I'd known as an adult so far. I thought of my solo debut as a kind of retrospective of everything I experienced in Chinatown, the closing credits on a largely unsustainable existence that I didn't want to end. Parker Jones, Black Dragon Society's owner, sold some work and I was naive enough to believe that, by the end of the opening, I had finally made it as an artist.
A few days later, a young woman, a film director from New York came to Chinatown to buy art and met me at my gallery. A week later, I had left Los Angeles and was living with her in Manhattan. I wasn't putting a great deal of thought into my actions at this time, but I had enough wherewithal to keep my real estate in L.A. to finance my life on the East Coast. I rented an $800-a-month studio in Tribeca and woke up every day to paint. In L.A. I had people to paint, but in New York, I didn't have much of anyone, so I'd paint people from memory. There was no bathroom in the studio, but there was a sink, which made for a better situation than most of the places I had lived in L.A. When the film director and I got into arguments, I'd sleep in the studio, eat my meals at the deli downstairs, and use that sink quite frequently.
I believed that I had a real shot this time at being an artist in New York. I had already started and finished a career as a dealer in L.A., and now I had a dealer of my own, Parker Jones, who wanted to show me at the Armory Show in New York, the biggest art fair in America at the time. Parker flew out to do a studio visit with me and saw what I was working on.
"I couldn't show this," he said. "They've actually gotten worse. New York has been bad for you."
My years dealing with artists had taught me how to reckon with a situation like this: I told him that he
had
to show me at the Armory Show. I was one of his representative artists. He relented, but he didn't want to show my paintings. I offered instead a video of my birth that my father had shot at Cedars-Sinai in L.A. As I mentioned, I was operating mostly on impulse at this point in my life. For whatever reason, Parker believed my literal introduction to the world was a better way of introducing my artistic career on an international stage than my mediocre but inoffensive paintings. Anyway, he had just made some money off my work. He wanted to keep me happy.
Parker gave over much of his booth at the Armory Show to the painter Jonas Wood, another L.A. artist, and put the video of my birth dead center. People either ignored my video or told Parker how much they hated it. Perhaps as a result of this detestation, Jonas was selling like hot cakes, and the Chelsea dealer Anton Kern offered to start showing him in New York. I hung around the booth, my excitement giving way to horror as I witnessed in real time my dreams fading from view, all the while trying to hype my ill-conceived video and losing so-called friends in the process. I was devastated. I might have gotten away with this in L.A., where everyone knew me and could forgive, however begrudgingly, my more disagreeable gags. It hadn't occurred to me that the world was much larger than Chinatown.
More to the point, I'd spent my whole career as an art dealer in L.A. trying to subvert this role, making it into a joke, taking it seriously as if by accident, only to come to New York and realize that being an art dealer was the only thing I was good at.
I decided to reopen Rental in New York. If I wanted to stay there, I couldn't do it as an artist. I rented a sixth-floor space on East Broadway, in Chinatown. I was back in the land of bus depots and mah-jongg parlors and Chinese businessmen I felt comfortable negotiating with. It was the only place in New York people like me could get a lease without a guarantor. I hoisted paintings up the side of the building through the windows because they wouldn't fit in the tiny elevator. (Pablo Picasso's granddaughter Marina would eventually tell me, "Your elevator smells like piss.") At the opening of Rental I overheard a prominent New York critic talking to the dealer
Andrew Kreps
. He said, "I'm not sure why we're here." But there they were. Roberta Smith
reviewed the show
for
The New York Times
. After I read the review, I bought a twin bed and built a makeshift room for myself in the gallery because I figured I'd be staying a while.