Jasmine Little
Ink and Pots
January 19 - February 8, 2019
Adjacent to Kings Road Cafe
-----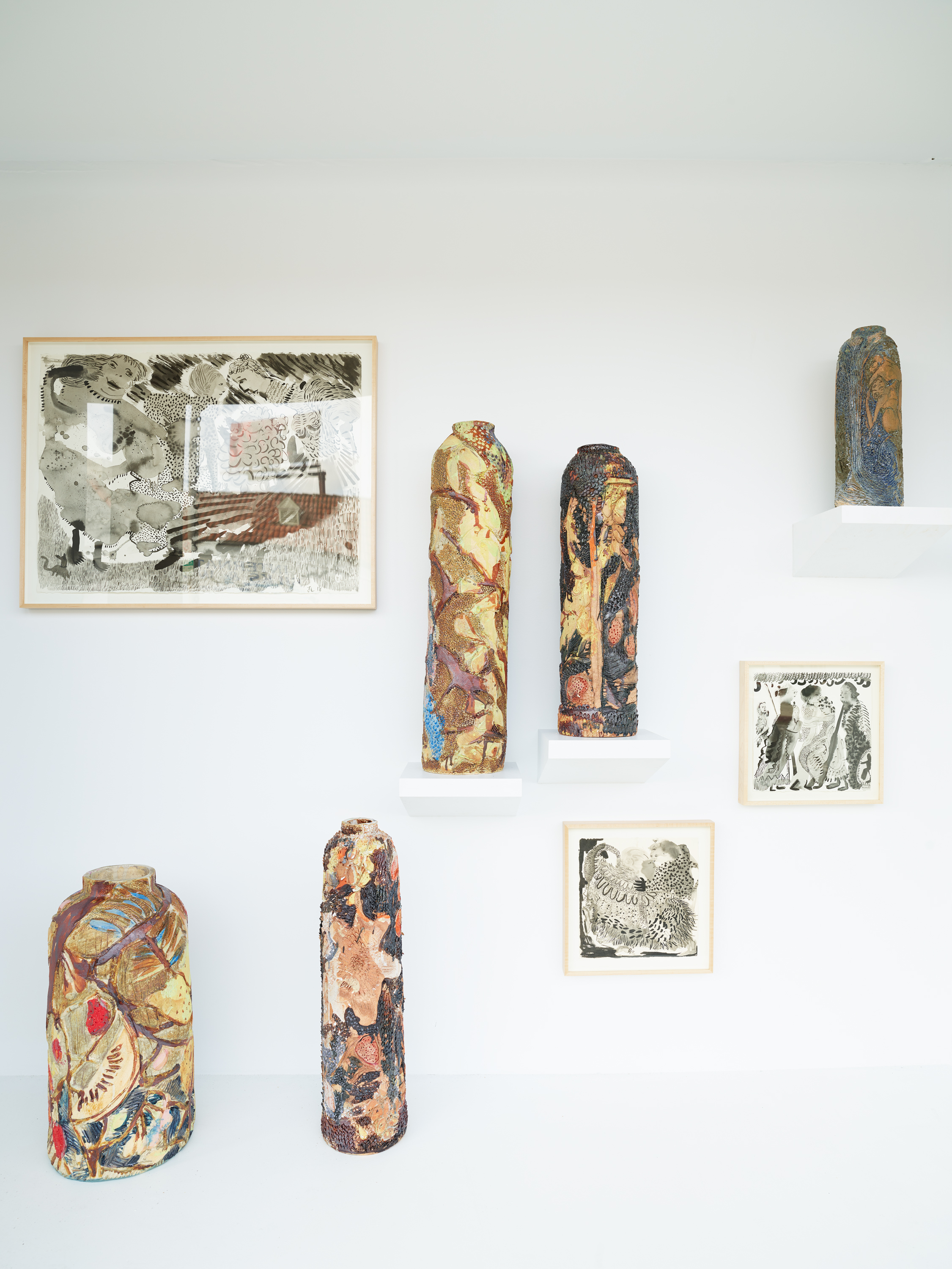 ARTIST BIOGRAPHY:

JASMINE LITTLE (b. 1984) received her M.A. from Adam State University in 2015 and her B.A. from UCLA in 2009. Recent solo exhibitions include Johannes Vogt NY in New York, Lefebvre et Fils in Paris, Galerie Dumonteil in Shanghai, and South Willard in Los Angeles. In 2017 she participated in The Residency Versailles, France and received a career advancement grant from the National Endowment for the Arts.
-----
The Newsstand Project
is pleased to present
Ink and Pots
, a solo exhibition of new work by Colorado-based artist
Jasmine Little
. In the exhibition, Little will be showing a selection of recent ceramic and ink on paper pieces that draw from her varied, interdisciplinary artistic practice which combines and reformulates gestures of painting and drawing, material manipulation, and a singular visual style, all her own.
Ink and Pots
will be on view at
8361 Beverly Blvd., Los Angeles, CA 90048
from January 19–February 8 by appointment only, with a
public opening reception on Saturday, January 19th from 11am–1:30pm
. Please contact Injinash Unshin at
injinash.unshin@gmail.com
for further inquiries.
As the exhibition title suggests, Jasmine Little's Ink and Pots brings together two disparate, but closely-related recent bodies of work: carefully constructed and adorned ceramic vessels and pictorial ink drawings on paper. Each of Little's ceramic pieces begins by coiling slabs of clay—a traditional vessel building technique in which rings of wet clay are stacked and joined to create a hollow-bodied object.
While the clay is still malleable, Little adds, subtracts, and colors the vessel's surface—essentially drawing into the sculpture's visible surface before solidifying each piece in a gas kiln reduction fire. The resulting embedded imagery is often derived from nature, as abstracted flora and fauna fade in and out of view, physically wrapping around each sculptural piece.
Little's drawings share much of the same iconography as her ceramics, although applied in a more direct way by brush and ink on paper. Drawing aesthetic inspiration in-part from 1600-1800s Dutch Still Life painting and modernism (specifically Fauvism), Little often adds covert historical painting references, filtered through her distinctly individual visual style. In these works on paper, her graceful and poetic mark-making is heightened by subtle coloring and often sparse composition, highlighting her gestural approach to image making that coexists in all of her bodies of work.
TNP
-----